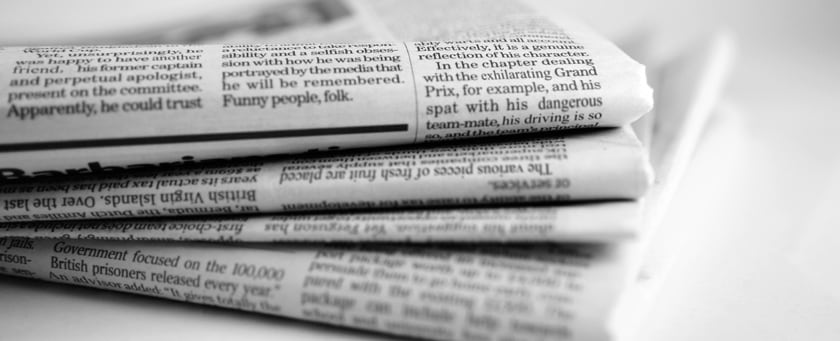 If you haven't had time to keep up with the news over the past week and are just now sitting down with your coffee in hand, here's what you missed (each title links to the original article to read in full):
Roger Ver, commonly referred to as "Bitcoin Jesus," has accused cryptocurrency trading platform OKCoin of forgery and breach of contract regarding management of the bitcoin.com domain name. Ver was an early Bitcoin investor who has since invested in Blockchain.info, Blockpay, and most notably Ripple Labs.
An interview originally conducted in spanish and appearing in Territorio Bitcoin, translated for our readers will full consent from its original authors, Javier Picos and Óscar Domínguez.
On May 26th, Simon Fraser University bookstores will begin accepting Bitcoin and launching BitSentBitcoin ATMs across three campuses. Ribbon-cutting ceremonies will be held at the Burnaby campus on May 26th, the Vancouver campus on May 27th, and the Surrey campus on May 28th. To encourage the use of Bitcoin in the bookstores, the first 100 customers to spend $CAN 20 or more using Bitcoin will receive a $CAN 5 bookstore gift card.
On May 22th the BitcoinTalk forums suffered an attack caused by social engineering on their ISP, the intrusion was quickly noticed by forum administrator Theymos who took the server down. The service was restored on the 23th, however another suspicious irregularity was spotted on the 24th, causing yet another day of downtime for security purposes until it was finally restored.
Xapo Founder and CEO Wences Casares took to the platform's blog to unveil their new star-studded advisory board that will be comprised by three renown figures.
The black Tor market "Middle Earth" has begun requiring all users to enable JavaScript to access the site, which is known for easy drug purchase using Bitcoin. The site, which claims the JavaScript is used to mitigate DoS attacks, was recently exploited to possibly expose it's location.
On May 29th, Silk Road kingpin Ross Ulbricht was sentenced to two life sentences along with maximum sentences on all other charges. Ulbricht's convictions include money laundering, computer hacking, narcotics trafficking, identity fraud, and continuing a criminal enterprise. Judge Katherine Forrest spoke for nearly an hour, disregarding evidence of drug harm reduction, citing accusations which never manifested into charges, and following through with the prosecution's recent recommendation to make an example of Ulbricht.
In recent news, a team of eight members is all set to open up a Bitcoin bank in Switzerland. A Bitcoin bank, where all the usual banking facilities would be available, just without the paper currency. The Bitcoin bank aims to impart various services such such as loans, storage, transacting with the 'international, digital, government-free currency' that Bitcoin is.
In the latest development on the debate about the potential increase of the 1-megabyte block size limit, Gavin Andressen (Core developer, Bitcoin Foundation and MIT Digital Currency Initiative) expressed the possibility of moving forward with his proposed changes on the Bitcoin-XT project (authored by Mike Hearn, more information below the e-mails), in a chain of e-mails within the Bitcoin developers mailing list.
Information about millions of AdultFriendFinder (part of FriendFInder Networks Inc.) was dumped earlier this week on the Dark Web, along with the promise of even more details for those willing to pay Bitcoin in exchange for the information.
---
Did we miss anything? Let us know in the comments.
The post Weekly Bitcoin News Roundup: OKCoin, BitcoinTalk and Block Size Debate appeared first on CoinBuzz.